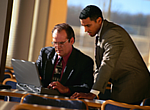 The Diversified Benefits Resource Association was created in June, 2011. Prior to 2011, we were known as the Consumer Directed Benefits Association. Our purpose is to provide supportive services to benefit brokers/advisors and their employers. The DBRA includes committed members, who the majority of whom are chief executive and senior management officers from various organizations who administer, consult and provide technical services for benefit plans. The Diversified Benefits Resource Association aims to maintain regular and valuable communications between these individuals and organizations. The activities of the DBRA are intended to provide opportunities to discuss any current issues with fellow members. The DBRA hosts an Annual Conference each year in the summer which are located throughout the United States.

Please visit the Membership page to learn more on how you can get involved.
Contact Us
Membership Questions?
Address:
10801 Starkey Road #104-221
Seminole, FL 33777
Phone: 850.284.4490
E-mail: dbraoffice@yahoo.com